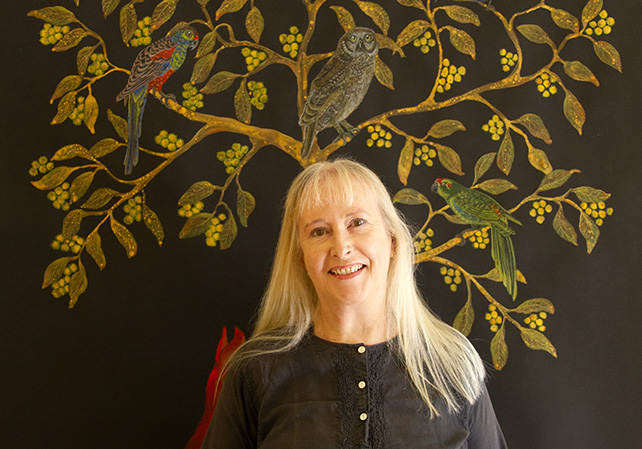 Anna Glynn is an award-winning contemporary Australian artist who draws on a diversified practice that incorporates painting, drawing, moving image, animation, sculpture, installation, writing, music and sound.
Her international reputation has grown through interdisciplinary collaborations of art and science exploring landscape and nature to create site-responsive artworks examining the amplified response that a physical engagement with the natural environment has the power to evoke.

In 2023 Anna Glynn was the recipient of an International Women's Day Arts Award and she has been awarded Artist in Residence Kakslauttanen, Arctic Circle, Finland and Mt Wilson, NSW, Australia. She is one of the invited artists to participate in 2023 OpenField Contemporary Art Festival, Berry NSW. She will continue her 2022 - 2023 commission as South Coast Arts 'Regional Futures Artist' participating in the exhibition in the 2023 Regional Futures Exhibition & Symposium at Casula Powerhouse, Australia. Regional Futures is a NSW state-wide program of creative development and conversations that places artists at the centre of a dialogue exploring a future vision for the place where they live and create. In 2023 she has had work acquired by the Art Gallery of Ballarat and the Halloran Trust Collection. She has been Awarded 2022 State Library NSW, Artist in Residence, Australia
In 2021 she has had work acquired by the Australian Parliament House Art Collection Canberra, by the National Museum of Australia Collection Canberra and the Shoalhaven City Art Collection. In 2021 she has been awarded Visual Artist in Residence, Co!Lab @CORRIDOR AIR, Orana Arts and The CORRIDOR project and in 2022 she will take up an invitation to be Artist in Residence at the State Library, NSW to work with their collection.

She has been selected as a finalist for the: 2023 Bermingham National Watercolour Prize, 2023 Blacktown City Art Prize, 2023 Gosford Art Prize, 2023 Ravenswood Australian Women's Art Prize, 2023 Omnia Art Prize, 2023 Lethbridge Landscape Prize, 2022 Heysen Prize for Landscape, Australia, 2022 Halloran Contemporary Art Prize, 2022 Omnia Art Prize, 2022 Mandorla Art Award, 2022 Percival Photographic Portrait Prize, 2022 Adelaide Perry Prize for Drawing, 2021 FLOW National Contemporary Watercolour Prize, 2021 Gosford Art Prize, 2021 Stanthorpe Photography Awards, 2021 Martin Hanson Memorial Art Award, 2021 Adelaide Perry Prize for Drawing, 2021 Nillumbik Prize for Contemporary Art, 2020 Heysen Prize for Landscape, 2020 Hurford Hardwood Portrait Prize, 2020 Fisher's Ghost Art Award, 2020 Elaine Bermingham National Watercolour Prize in Landscape Painting, 2020 Basil Sellers Art Prize, 2020 Percival Portrait Painting Prize, 2020 Mandorla Art Award, 2020 Adelaide Perry Prize for Drawing and 2019 Semi-Finlast in The Lester Prize for portraiture, finalist 2019 Ravenswood Australian Women's Art Prize and in 2018: for the BOAA, Biennale Of Australian Art, finalist in the (JADA) Jacaranda Acquisitive Drawing Award, Waterhouse Natural Science Art Prize and finalist Ravenswood Australian Women's Art Prize. In 2017 her work was acquired for the Parliament House Art Collection Australia and she was a finalist in the KAAF, Kilgour Prize and the Ravenswood Women's Art Prize. In 2016 her moving image work won the Noosa Art Award and was a finalist in the Heysen Prize for Landscape. Her moving image work 'Presence' was a finalist in the Mandorla Art Award and acquired for the St John of God Healthcare collection, Australia. In 2015 her video 'The Sun Worshipper' was selected for the Byron Bay International Film Festival and was a finalist in the Whyalla Art Prize. In 2015 her drawing 'Awaiting Discovery' was the recipient of the Kedumba Drawing Award. In 2013 she was a finalist in the 'Australian Art in Asia Awards' recognising her ongoing commitment to international collaboration. Her film 'The Traveller' won the Animation section at the 2010 International Film Festival, Ireland and her moving image work 'Verse Versus' won the 2009 Australian Historic Houses Trust, Meroogal Women's Art Prize. In 2009 her narrative painting 'Brave Hunter' was chosen as the iconic Australian image for the cover of 'A Concise History of Australia'. In 1998 she received an International Women's Day Award for contribution to 'Women, Art & the Community'.

In 2019 at the Museum of New Art - MONA in Estonia she showed 'Marooned' a series of compelling intimate thematic installations. These works address nature, ecology, history and environment, embracing art as a way to pursue meaningful international conversations and exchanges. Whilst in Estonia she gave public lectures with scientist Peter Dalmazzo at the Matsalu Nature Film Festival and received an award for her exhibition 'Marooned'. In 2019 she co-authored a chapter in the Irish publication "from dream to dream - where science meets art". She created a new body of work for the Art of Threatened Species Exhibition at the Western Plains Cultural Centre in Australia. She was commissioned in 2018 to collaborate on 'Art, Ecology and Science Project' in USA and Sweden. Read the Art, Ecology and Science publication

In her exhibition Promiscuous Provenance which toured 2018 – 2021 she indulges her perpetual curiosity to lead her back in time to an intersection of worlds by re-interpreting images of the Australian colonial painters. These artworks express a nostalgia for an antipodean wonderland before the imprint of colonization was stamped over the landscape and its inhabitants - a world of fantasia, a place on the cusp of reality and imagination, populated by bizarre reimagined hybrid characters and featuring strange natural history tableaux. Promiscuous Provenance has been awarded a major grant from the Australian Government's Visions of Australia program ($75,502), towards the Shoalhaven Regional Gallery national tour the solo exhibition, taking the work to a regional and national audience through to 2021 - 10 galleries across QLD, NSW, ACT, VIC and SA.

Her moving image works have gained international awards and recognition: 'Antipodean Nocturne Extinction' was a finalist in the 2018 Heysen Prize for Landscape, 'Cane' won the Noosa Art Award in 2016, 'The Traveller' won the Animation section at the 2010 International Film Festival Ireland and was selected as the premier work to launch the Albury Regional Gallery 2011 Outdoor Digital Gallery. In a unanimous decision by the judges, her digital video artwork 'Verse Versus' won the 2009 Australian Historic Houses Trust, Meroogal Women's Art Prize.

She regularly exhibits internationally: including the Art Museum of Zhu Qi Zhan, Peking University/ China & the Kyoto Museum / Japan. Her soundscape work 'Yarra River Stories' was featured on the Australian Broadcasting Commissions Radio National '360 Documentaries' in 2011 and 2013.
---
She has been included in the following publications.
Contemporary Australian Art
Artists and Galleries of Australia
A Dictionary of Women Artists in Australia
Who's Who of Australian Visual Artists
A Buyers Guide to Australian Art
She is a member of various professional bodies including the
National Association of Visual Artists
Arts Law
Viscopy
Full Writer Member, Australasian Performing Right Association
She has completed many commissions such as the year 2000 Millennium Sculpture Prize which is part of the collection of the Shoalhaven City Arts Centre. Her artist in residence includes those with public galleries, museums, government departments and in industry.

Her book, Strange Memories, is sixty pages featuring twenty five of her paintings. It explores the resonance of a journey in time through word and image.