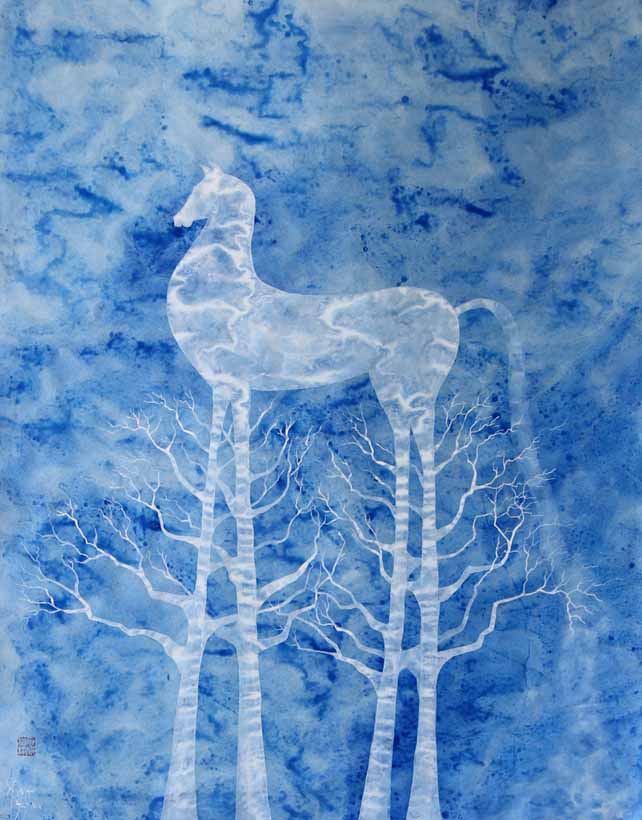 'Year of the Horse'
Anna Glynn's horses gallop, glide and prance about the Surry Hills Library. The horse features strongly in her work: the power, the graceful arch of the neck, the idea of a horse taking us on a journey to strange new places.
In this exhibition her artwork draws inspiration from significant periods living and working in China. Since 2006 she has travelled to China annually for exhibitions and residencies and to collaborate with Chinese artists. Her works fuse Chinese traditional ink painting techniques with a Western aesthetic, to create a poetic contemporary style.
In 2013 she had time to immerse herself in Chinese culture. She was the first foreign artist to be invited to exhibit in the fifty five year history of Tsi Ku Chai Gallery in Hong Kong and she was Artist-in-Residence in the Department of Visual Studies, Lingnan University, Hong Kong.
"Anna Glynn's paintings are tranquil, aesthetic, and poetic, brilliantly integrating the Chinese and Western art. Through water and ink, she sees the world."
Mr. Kung Man, Tsi Ku Chai Gallery, Hong Kong, 2013