Music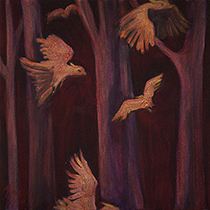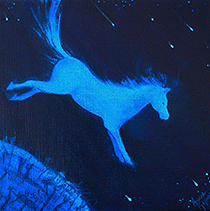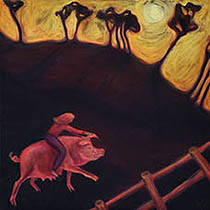 Left image- Night Cockatoos has the song 'Birds' which made it to the final rounds of selection of the Australian Songwriting Awards 2006. It includes a stunning vocal improvisation by Nina Morrison.
'Birds' is also the soundtrack to the short film 'The Traveller' by Anna Glynn which won the Animation section at the International Film Festival Ireland 2010.
It was selected for a number of film festivals in 2010 including: Dungog Film Festival & The Heart of Gold International Film Festival
'The Traveller' is an allegorical tale featuring a small intrepid traveller who takes a dreamlike journey in his quest to try and find his place in the world. This is a simple & evocative story that features Glynn's original artwork, animation & music.
---
Middle image - Pony Dream has the song 'Pony Girl' sung by Jane McIntosh
---
Right image - Pig Rodeo has the song 'Ride that Pig' sung by Nina Morrison.
---
Strange Memories - Music for a Landscape - the music CD
"In composing the music for Strange Memories Glynn was inspired by a special place. The result is a haunting series of music that echoes the stories of that place by the river". All songs written by Anna Glynn, except "Forever Again", which was written by Anna Glynn and Peter Dalmazzo.
Musicians: vocals Nina Morrison, Jane McIntosh (Pony Girl), cello - Anne Stuart, violin - Maria Perez Pulido, keyboard & synthesizer - Anna Glynn
CD $AUD29.95 inc GST plus postage contact us to order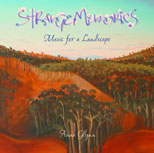 CD Track Listing
Only A Hill
Birds Fly
Steal My Heart
Ride That Pig
Selected
Birds
Pony Girl
Mad Accordion
Araby
Leaving
Changes
River Song
Forever Again