Articles & Reviews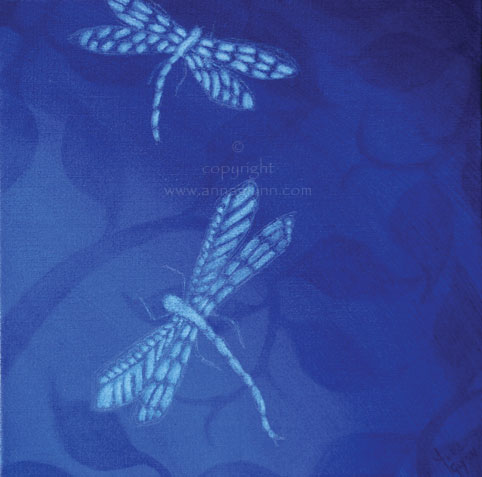 Comments on Anna Glynn's Hidden World series
"Anna Glynn creates a new life with ink using the traditional Chinese painting tools from her personalized perspective of aesthetic appreciation. The swift skill of using ink enables her to show a wonderful world in a completely free and appropriate way.
Different experiences in many environments and cultural traditions have freed her from the fixed aesthetic standard for traditional Chinese ink painting and given her full rein to a more humane and creative mastery of ink.
Anna Glynn's paintings have opened up a new frontier, a secret mysterious metaphorical poem opening wide to life. She uses a crystalline lens projecting dream-like images from her inner heart to explain the true meaning of existence."
Wang Yingxiao, Curator Hidden Worlds exhibition Beijing 2012
---
"Anna Glynn's work is passionate in its perception and understanding of the meaning of balancing the human mind and Nature's spirit. Her creations absorb Nature's great feelings and express the beauty of the silence of the Universe…"
Professor Wenyi Yu, Ph.D. Senior Researcher, Cultural Industries Institute, Peking University, Beijing
---
"Anna Glynn is an artist who uses continuously innovative ink painting to present her art vitality in the contemporary Sino-Australian art circles …her own unique female gentleness hides an almost masculine strength and boldness to create works mysteriously rich and full of vigor…. Appreciating her works, the audience can see her skillful ink techniques, incredible mastery of painting, rich human atmosphere, poetic and aesthetic conception, and experience a mysterious, elegant art form…; her works are a pure and innovative realm through which people can understand nature and life."
Wang Wuji, Chinese contemporary art critic Beijing 2012
---
Comments on Glynn's short film "The Traveller" which won the Animation section at the International Film Festival Ireland 2010. It was selected for a number of film festivals in 2010 including: Dungog Film Festival & The Heart of Gold International Film Festival
---
January 2010 - Anne-Louise Rentell, Theatre Director, Merrigong Theatre Co. Illawarra Performing Arts Centre
"Anna always takes her viewer to a beautiful and magical place, made all the more exciting and compelling because of her sophisticated but playful engagement with the natural world."
"Wonderful...beautiful - love it!"
---
"The Traveller inspires all of us to look at our world a little differently. By surrendering to the precious moments, seeing what is good and learning more about ourselves we gain strength to face our everyday challenges."
"Don't let those precious moments fly by"
---
Glynn won the Historic Houses Trust Meroogal Women's Art Prize 2009 for her video artwork 'Verse Versus...' It was a unanimous decision by the three judges and the first time a video artwork has won.
---
August 2009 - Judge Joanna Nicholas
"...Glynn's paintings, stories and music offer up layers: time, memory, nostalgia, the past and the present all find space to sing out, overlap, speak to one another and resonate with meaning. .......an enchanting tale … a tale well worth reading, viewing, listening to and becoming entwined in."
---
May 2006 - Annabel Frost Australian Country Style
Commenting on the book Strange Memories
"It is so beautiful. It's the art I've always longed for, the book I've always hoped to find."
---
May 2006 - Alan Gilmour reviewer for Australian Songwriters Association Inc.
Commenting on the CD Strange Memories
"...It has a beautiful, haunting and ethereal quality to it. .. It has a dreamlike quality,"
---
June 2006 - Anne-Louise Rentell Theatre Development Coordinator, Merrigong Theatre Co. Illawarra Performing Arts Centre
"Anna's stunning artwork, beautiful soundtrack and deeply personal narrative are each extraordinary evocations of one person's response to place. Combined, they make a powerful and moving story of loss, childhood and the haunting power of the past."