'Promiscuous Provenance'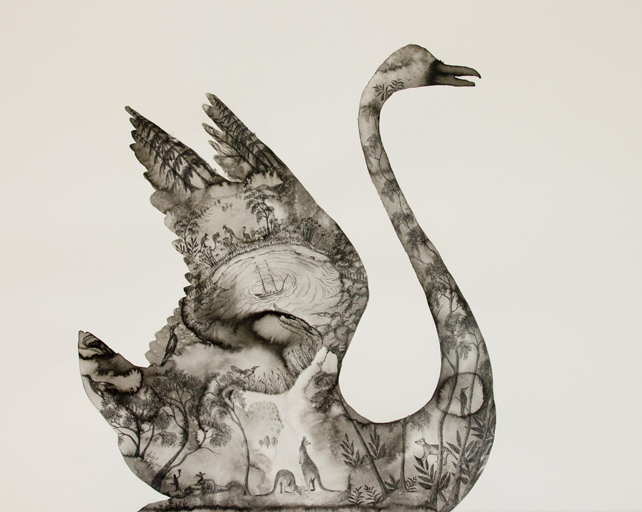 PROMISCUOUS PROVENANCE explores our colonial past with direct reference to the works of the early colonial artists' and their first encounters with the Australian landscape.

Australian artist, Anna Glynn is drawn to the work of these artists, including John Hunter, the Port Jackson Painter, and George Raper. As artists seeing a new world of flora and fauna for the first time, their works illustrate the strangeness of this encounter; in his journal, Hunter describes the creatures he sees as coming about through 'a promiscuous intercourse between the different sexes of all these different animals'.

Glynn elaborates on Hunter's idea of "promiscuous intercourse" by creating her own alien creatures, hybrid manifestations of the original colonists' art and the colonists themselves. These contemporary works reflect her fascination with the strangeness of the past, as unknown and unfamiliar to her as the antipodean fauna was to them. The core of the exhibition is realised in a series of ink drawings accompanied by video work, sculpture and installation bringing them to life as artefacts of the imagination and objects of wonder and curiosity.

For an artist working in the 21st century, the inability of the colonial artists to see the Australian landscape as it was, but rather to represent their alien surroundings using known forms and animal shapes from Europe, is both beguiling and symbolic; is our identity as Australians built on a strange hybrid history, a 'Promiscuous Provenance'?

By re-interpreting and dissecting the work of the colonial painters Glynn forces the viewer to reconsider our own provenance; how is it that our identity which is still based in our colonial history continues to be interpreted through a European lens, and rarely takes into consideration the way in which this lens warps our understanding of the true provenance of Australia?