Shoalhaven Stories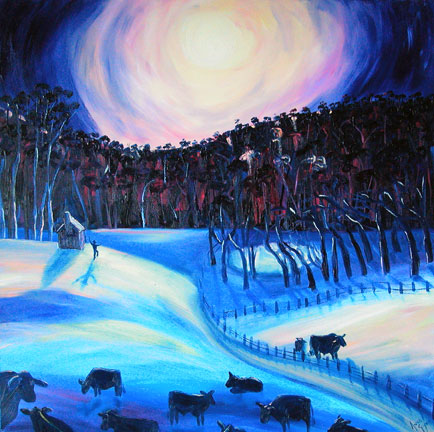 Shoalhaven Stories is an ongoing project developed by Australian artist Anna Glynn based on local stories, events and myths from the region where she lives on the east coast of Australia. The Shoalhaven is cradled on one side by a mountain range and on the other by the Pacific Ocean. A number of the works were created whilst artist in residence at Bundanon, Arthur Boyd's property on the Shoalhaven River
For the past twenty five years contemporary Australian artist Anna Glynn has been living in the Shoalhaven and quietly observing and gathering stories - both her own and those from the community. In her Shoalhaven Stories exhibition she expresses this rich collection of unusual and everyday events through painting, drawing, photography, sculpture, writing, music, sound, installation, film and animation.
This is an exciting retrospective which at times is beautiful, strange, playful, politically incorrect, dark and humorous. This important exhibition is the culmination of many years work and will show artworks which have never been seen.
Shoalhaven Stories
by contemporary Australian artist Anna Glynn 'A regional artist working with an international perspective' Paintings, video, writing & sound works
Main Gallery Shoalhaven City Arts Centre August 16th - 12 September
Exhibition launch Saturday 18th August Midday – all welcome
Artists Talk and Guided Tour Saturday 25th August 1.30pm to 2.30pm RSVP
Saturday 25 August 10am–12.30pm Creative Writing Workshop with Claire Manning RSVP
Saturday 1 September 1–3.30pm Shoalhaven Storytelling – The Kitchen Table Poets and other writers share their poems and stories inspired by the Shoalhaven Stories works RSVP
Saturday 8 September 2–5pm Shoalhaven Stories – a poetry workshop for all those interested in telling their stories, with Chere LePage and Colleen Duncan RSVP
Please RSVP for all events to 4429 5444
In her work Prawn Juggling on Sussex Inlet she paints the quiet contemplative joy of an evening spent on the dark mysterious water of the inlet. This work features a starlit sky and spiralling semitransparent crustaceans in a bold red.
Glynn invited local writers to respond to this work and a number of others in the exhibition. The resulting prose will be included in the exhibition. Glynn recorded the writers and includes their voices - playing very softly in the gallery…these voices may be so soft that you have to strain to hear them…a bit like the layers of history….not quite discernible…and sometimes lost.
Shoalhaven Stories is supported through funding from the Australian Government's Your Community Heritage Program. This recent funding provides an opportunity to have Glynn work with the Shoalhaven City Arts Centre and a small team to gather and record more stories, working also with digital media and creating an online accessible presence.
Foreword by Tracey Glenn, Shoalhaven City Arts Centre Manager
This retrospective body of work by Anna Glynn is at times beautiful, strange, playful, politically incorrect, dark and humorous. During the past twenty five years, living and working in the Shoalhaven, Glynn has been researching and painting stories gathered from the local area as well as telling her own stories. She collects and records these through painting, drawing, photography, sculpture, writing, music, sound, installation, film, animation and theatre. This important exhibition is the culmination of many years work by the artist and shows artworks which have never been seen by the public.
Glynn's work reflects a strong and powerful relationship to the Australian land and its nature. Her inspiration comes from an intimate, deeply emotional connection, which developed from her childhood on a rural property and continues in her arts practice today. She uses this substance and spirit as her foundation to create visually poetic artwork. Aspects of her art delve into the association between land, memories and stories that resonate within a place.
The exhibition includes her painting the 'Brave Hunter', which was chosen as the archetypal Australian image for the cover of the most recent edition of A Concise History Australia by Cambridge University Press. This work is from her Bundanon series, where she spent extensive time working with Arthur Boyd and researching stories from the historic property. The previous edition of this important publication featured a cover image of Ned Kelly by another painter who worked and lived in the Shoalhaven, Sidney Nolan. The selection of Glynn's work continues in this tradition of using images that interpret Australian stories within our iconic landscapes.
This exhibition also draws attention to Glynn's 'Shoalhaven Stories' sculptural installation located in the gallery courtyard, a public art project commissioned by the Shoalhaven Arts Board in 2000. It depicts many local stories collected by the artist over an extensive time. She developed programs working with the community in a celebration of the stories, characters and local myths of the Shoalhaven.
The Shoalhaven City Arts Centre, in presenting Glynn's retrospective body of work, is inviting the audience into this artist's world – a world we can share with her as they are our stories told here too. The exhibition is a starting point for a journey through time and personal experiences for viewers and gives them the unique opportunity to contribute their own 'Shoalhaven Story' to the steadily growing body of work based on the website as a portal. This mix of traditional exhibition space and the virtual forum of the website allows our Shoalhaven Stories to continue to be developed and showcased long after the exhibition has come off the gallery walls. Shoalhaven Stories is a special project with real opportunities for the audience to be intrinsically involved in the artistic process and for us to capture the wonderful history and heritage of our region through its people.
Anna Glynn Artist's Statement Shoalhaven Stories
For me, the threads from the past have always intersected with the present and the future. My work embraces the landscape as the setting for various performances that occur … the ephemeral, fleeting layers of time, past and present overlapping and resonating with memories. I am intrigued by the natural world and the accompanying underlying narrative. The echo of all stories embedded in the landscape where we are mere small performers on a grand stage. My ideal creation, if it was possible, would be to make a cross section through time at different geographic locations … see the forests, oceans, people and animals … hear the sounds of the ancient birds echo through the trees and reverberate down the valleys…a glimpse of the many stories that accompanied these past worlds.
As an artist, I have always been captivated by stories and storytelling. The Shoalhaven Stories series is a continuation of this passion. During my time living here I have been quietly observing and gathering stories – both my own and those from other people in the community. In this exhibition, I call upon this rich collection of unusual and everyday events and express them through a variety of media.
My works are based on local stories, events and myths. In some cases it is almost like the game 'Chinese whispers' – by the time the story has passed along from person to person it is almost unrecognizable from the original. The layers of history build up and erode and the stories that are told can take a similar path...aspects are worn away... others are polished and refined like gems to be repeated again and again.
A lifetime of constant curiosity led me to the Shoalhaven when I took a turn off the highway and instantly fell in love with the landscape. I am grateful to live in this community that is so willing to share its stories.