Performance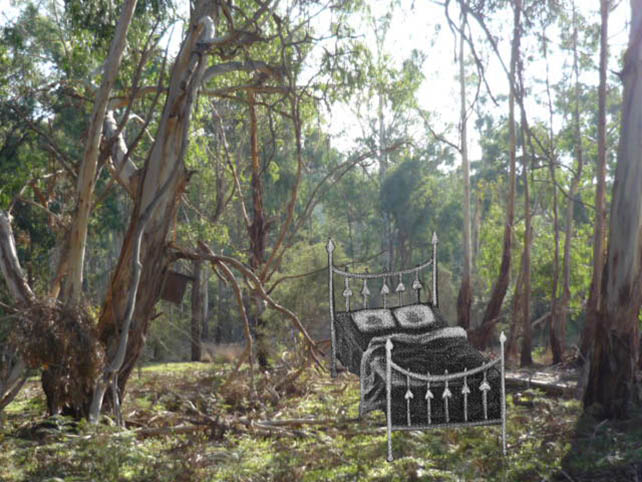 Digging a Hole to China is the working title for the development of a unique site-specific performance in the Australian landscape. The work explores the childhood of Australian artist Anna Glynn and her connection with Chinese artist Wu GuoWei.
This will be a piece of image based theatre for children and adults alike, a unique interaction with landscape, story and art during a promenade outdoor performance. The first major development of this work took place in April 2010 with the support of Nillumbik Council thru a Laughing Waters Artist in Residence.
Director and co-creator: Anne-Louise Rentell
Art Director and co-creator: Anna Glynn
---
2008 China
Glynn spent time through the Australia China Council / Australian Department of Foreign Affairs in Northern China collaborating with Chinese artist Wu GuoWei collecting sound and image.
---
2007 China
Glynn was invited along with six other international artists to exhibit her paintings in a multinational modern art exhibition titled 'Being' at the Zhu Qizhan Art Museum in Shanghai 2007. The gallery is a public contemporary art museum in the Hongkou District.
The gallery is a public contemporary art museum in the Hongkou District. The exhibition theme 'Being' looked at the importance of nature, animals and the environment. She also presented a multi media work with narration based on her Strange Memories film for the opening ceremony of the exhibition working with a local performer Shao Bai who narrated in Mandarin.
---
Illawarra Performing Arts Centre (IPAC)
Strange Memories was selected for the Merrigong Theatre Development Program at the Illawarra Performing Arts Centre, Wollongong Australia. www.merrigong.com.au
In 2006 & 2007 the first stage was completed which was script development: exploring the theatrical ideas within the script. Glynn worked with Anne-Louise Rentell (director) and Shane Lomman (lighting designer), Helen McLean and Jess Waterhouse (performers) to investigate the theatrical potential of the work in pre-existing forms (painting, songs and text). A number of scenes from the text were selected to explore the integration of image and sound. Peter Dalmazzo assisted with technical support.
---
Strange Memories Performance June 2006. See Change Festival
Even though it was a night of squalling rain and dark winding roads, it was a full house for the first NSW performance of Strange Memories. An audience made up of all ages from three to ninety three were enthralled with the images and sound created by the cast of talented performers – Nina Morrison, Jane McIntosh, Anne Stuart, Anna Glynn.
---
Strange Memories Performance April 2006. Warrandyte Festival
The performance in Victoria was a great success, taking the story back to its home. Thanks to the performers: Nerida Kirov, Maria Perez-Pulido, Mia Kennet.
---
Multimedia presentations
These include the artist's film Strange Memories and incorporate narration from the book, music from the CD and a variety of live elements.