ESTUARY - a short film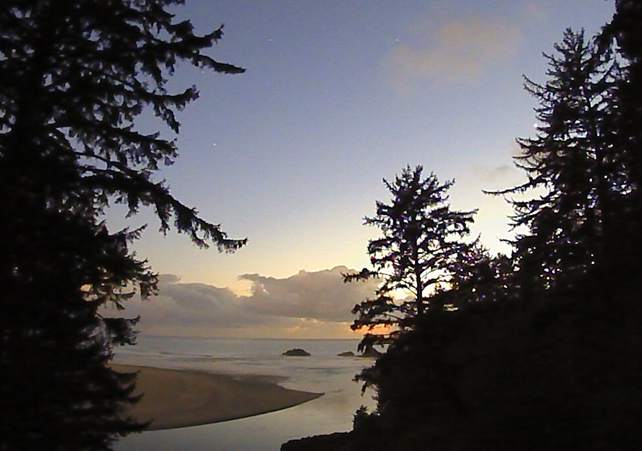 'Estuary' gave me the opportunity to share in an interdisciplinary international collaboration with American composer Ben Cosgrove and Australian scientist Peter Dalmazzo. During an intensive four months at the Sitka Center for Art & Ecology on the Oregon Coast we explored, shared our skills and insights of the luxuriant surrounding environment. Each of us brought insights informed by our respective fields to create a poetic work reflecting the mesmerising ebb and flow of nature.

My nocturnal time-lapse video was made in a location that gave fabulous glimpses of a world that many of us do not often see - a time of seeming stillness that in reality is a time of great activity, waves, water, clouds unfurling, endless looping of the tides, stars tracking across a midnight sky...

American composer Ben Cosgrove responded musically to the footage of the estuary, creating a rippling cyclical piece that perfectly pairs with the movement of nature.

Peter Dalmazzo sensitively wrote the following piece through the lens of a biologist.
twilight
golden sun slowly disappears behind Cascade Head, slides down below the Pacific horizon
the light changes rapidly now, passes through greater and greater thicknesses of the earth's atmosphere, scattered by particles, having travelled so far and so fast, unaffected, now influenced by the tiniest of molecules
darkness
darkness, broken by a lesser but intriguing light, emitted from distant stars, reflected from nearby planets
while most people sleep, signs of nocturnal human endeavour appear and move across the field of view
motion - waves
refracted by Cascade Head
diffracted by three rocks
reflected by steep shoreline
the lengthy, steady journeys of waves near their end
parallel rows now disrupted by complex coastal morphology
they change direction, interact, summation, subtraction
they drag on the sea floor, crest, tumble forward, break
order ends in chaos
motion - sand grains
in the swash zone, the waves' last energy is spent moving grains of sand
one grain is dragged back to sea
another tossed forward to help form an accreting beach
one day a winter storm will crash upon the beach, tear it apart
reclaim that grain also for the sea
or perhaps that grain will be collected by the wind, Aeolian forces, and travel higher on the shore to help form dunes, there to support the shore pine
the waves mostly don't strike the beach square on
angle of incidence
longshore drift
one sand grain is gradually marched along the beach to form the sand spit
motion - the entrance
the Salmon River Estuary runs hard against the base of Cascade Head, protected in the crook of the headland and the three rocks
a sand grain, having been marched down the beach by waves, arrives at the end of the spit
this grain, in company with many of its kind, would close the mouth of the river to the sea, like the healing of a wound
were it not for the scouring force of the tides
will this grain be picked up by an outgoing tide and delivered back to the sand bars in the sea?
or picked up by an incoming tide and delivered to the flood tide delta in the estuary?
daily, the river eats away at the spit; daily, the sea replenishes it
one day the torrent of a flood will blast the spit apart, and return many grains of sand to the sea
start again
brightness
bright moon reflects the light of the sun onto the surface of the earth, illuminating the spit, the spruce, the estuary
the disrupted, angular surface of the sea recasts droplets of light
our moon drags the very surface of the sea upward, a bulge of tide that follows the path of the lunar orbit 
that moon continues on its journey, unknowing, uncaring that it would soon, this night, be eclipsed by the shadow of the earth itself
a blood moon

Peter Dalmazzo
April 2015
Sitka Center for Art and Ecology