Bundanon Series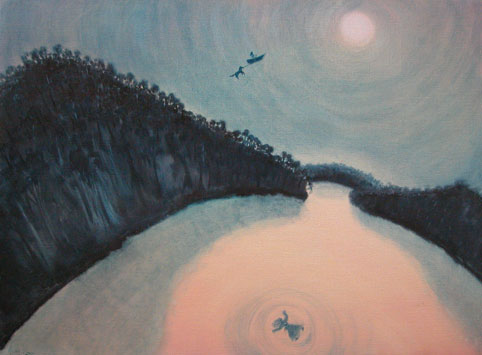 Glynn worked for an extensive period with artist Arthur Boydat Bundanon during 1993. In this time she created a large series of works. During painting expeditions into the bush with Arthur, large canvasses were tied to trees and propped with fallen branches. Arthur Boyd invited Glynn to have an exhibition of these new paintings at the property.
In 1994 The Bundanon Trustopened the beautiful Riversdaleproperty to the public for the first time. The main feature of the weekend was this exhibition of recent paintings and lithographs by Anna Glynn.
Arthur Boyd described her work as
"the most lively, inventive, creative and original he has seen in a long time. Anna has produced a large body of work of great quality for this exhibition."
Glynn donated a hand printed lithographic edition to the Bundanon Trust to raise funds for the development of the amphitheater for performance.