'Promiscuous Provenance' Touring Exhibition 2018 - 2021
"...like an echo chamber capable of metamorphosis..."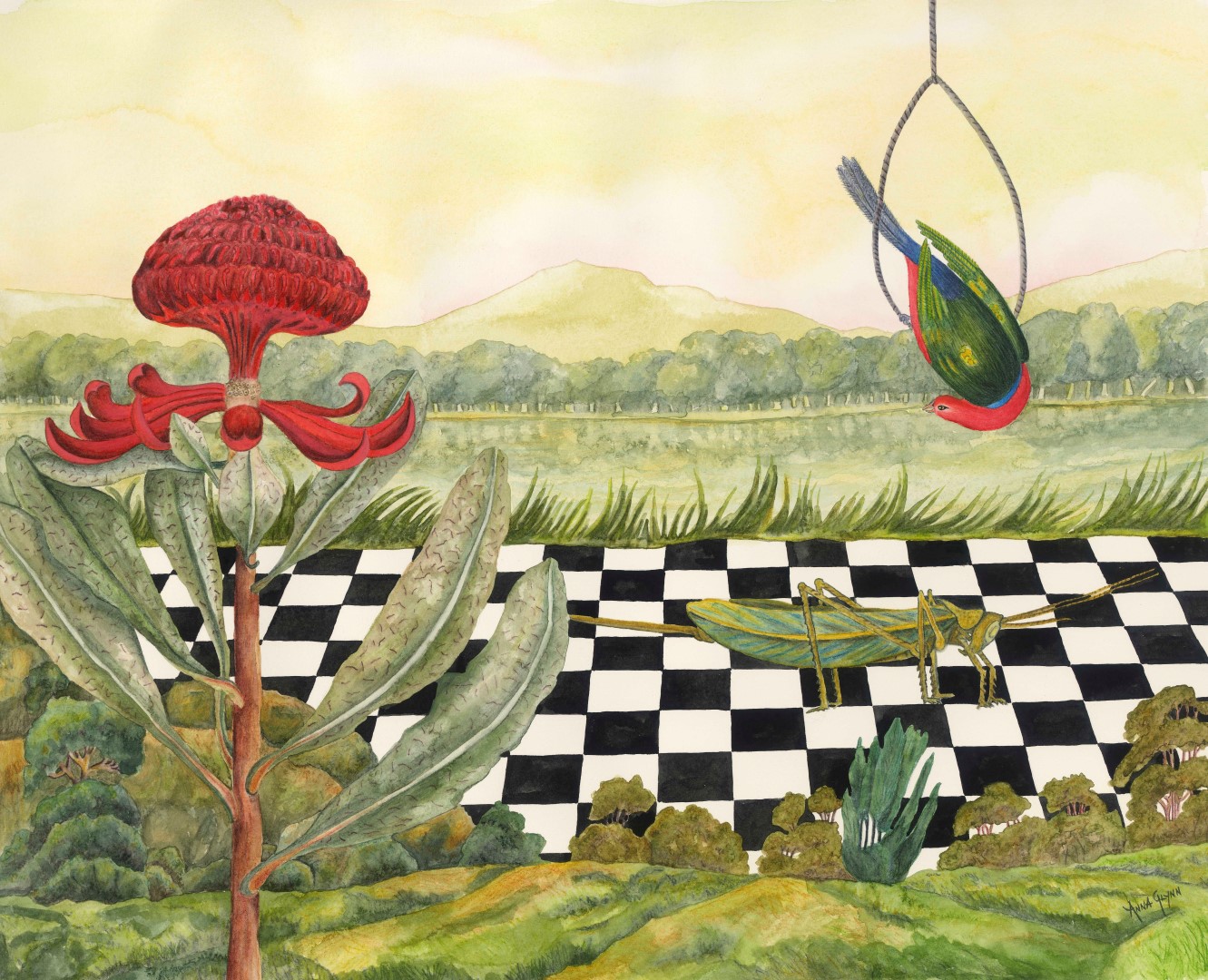 Antipodean Wonderland Reimagined from John Hunter
This work references various colonial paintings by Lewin, Hunter and Lycett.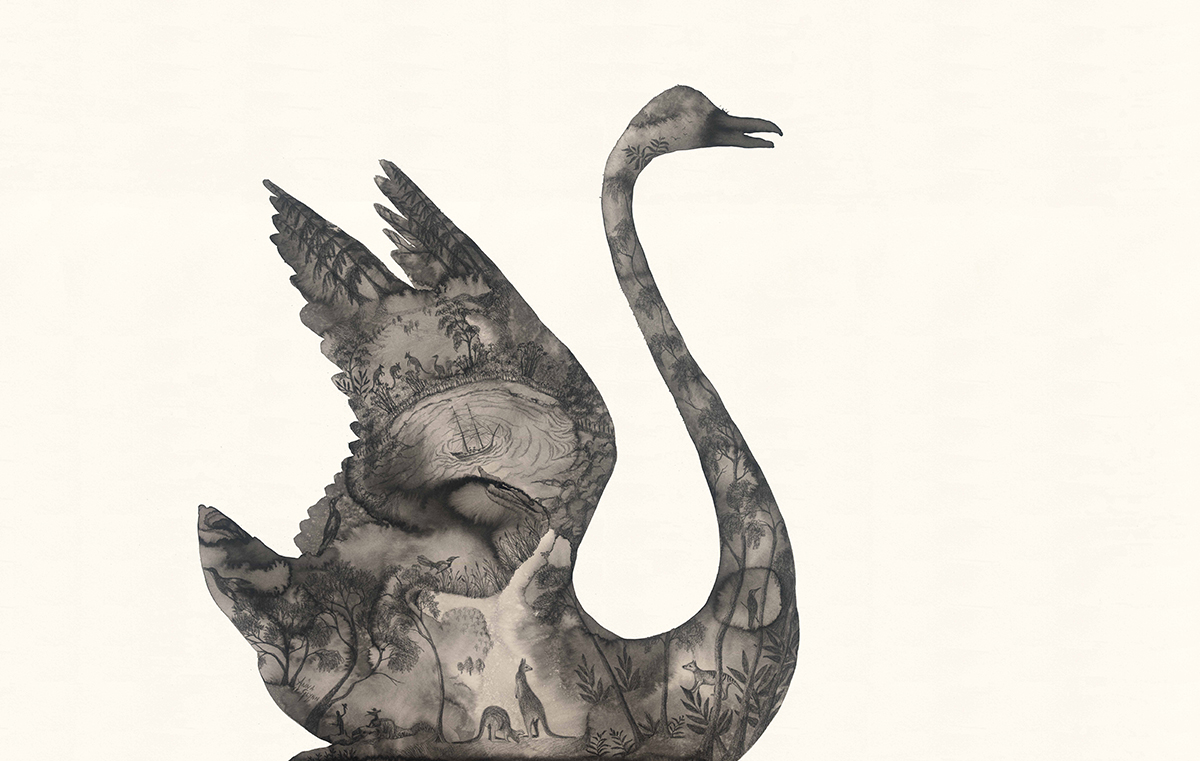 Black Swan / After Port Jackson Painters
This work references 'The black Swan the size of an English Swan. Native name Mulgo' by the Port Jackson Painter 1788 – 1792, from the First Fleet Collection, Natural History Museum, London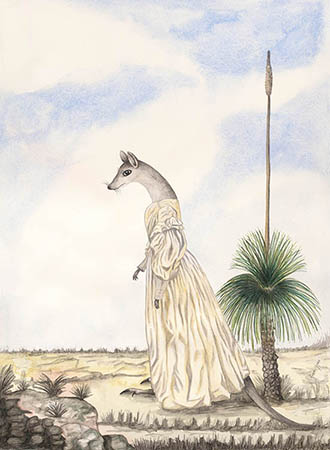 Colonial Hybrid Reimagined from Raper Gum plant kangooroo New Holland 1789
A reimagination of George Raper's'Gum-plant, & kangooroo of New-Holland' 1789
First Fleet Collection, Natural History Museum, London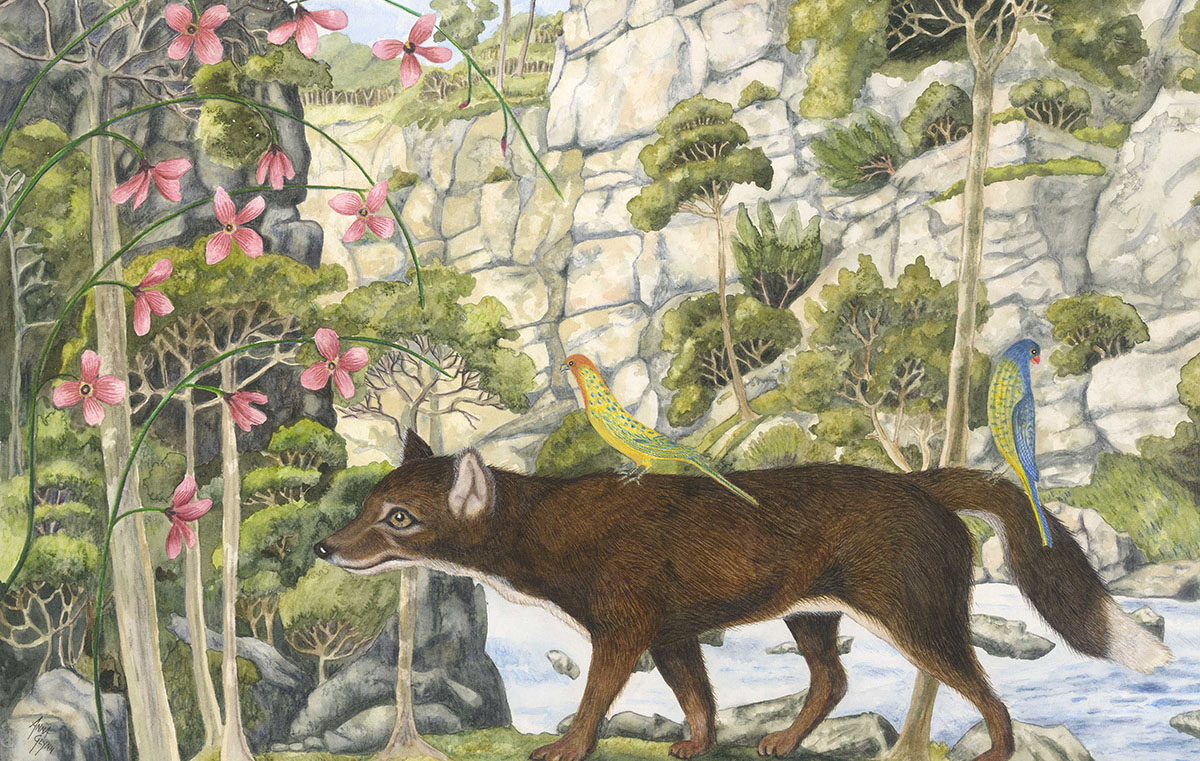 Antipodean Wonderland Tableaux Stubbs Dingo
A reimagination of George Stubbs 'Dingo from New Holland' (1768–71)
National Maritime Museum, Greenwich, London
In the Promiscuous Provenance series, I indulge my perpetual curiosity to lead me back in time to an intersection of worlds. By re-interpreting images of the Australian colonial painters through an almost naive playful engagement, the artworks express a nostalgia for an antipodean wonderland before the imprint of colonization was stamped over the landscape and its inhabitants. This is a world of fantasia, a place on the cusp of reality and imagination, populated by bizarre reimagined hybrid characters and featuring strange natural history tableaux. In essence this is a fantasy leading us to reflect and to reawaken our sense of wonder with our surrounding environment and contemplate the reality of this period of history.

"In these images, the historical layers continue to build, and Glynn's treatment evokes, accepts and extends agency to all of those who have gone before, like an echo chamber capable of metamorphosis, it offers a voice to those who were voiceless."
Louise Martin-Chew, 2018

"In her repositioning of early and precolonial works she has, in some fashion, connected aspects of Sydney Aboriginal cave art and her own work. The traditional Aboriginal peoples of the Sydney basin have left behind many thousands of art works and there are several traditional representations of the Aboriginal perspective on contact with colonial women."
Les Bursill, OAM, historian, archaeologist, anthropologist, publisher and Aboriginal Elder

"...Her sometimes surprising and disorienting combinations of historical and contemporary subjects insert history into the present. And the present into history. They remind us of just how wondrous and alienating the Australian landscape was, so puzzling and new it seemed almost the stuff of fairy tales.

Her work extends the motif of copying which has only recently become a central part of the story of art practice in the colony, copying not as forgery or of something lesser, but rather as a valid and valuable way of circulating drawings, as a way of responding to the fascination of the new, of feeding the appetite of gentlemen collectors to possess their own drawings and to fill in gaps in their knowledge. Anna's work is interested in the authority of images and the historically loaded tradition of drawing."
Louise Anemaat, Head, Pictures Section at State Library of NSW

Promiscuous Provenance encourages a re-examining of our relationship with our colonial past. Glynn is drawn to the work of the early colonial artists, including John Hunter, the Port Jackson Painter, and George Raper. As artists seeing a new world of flora and fauna for the first time, their works illustrate the strangeness of this encounter; in his 1789 journal, John Hunter describes the creatures he sees as coming about through 'a promiscuous intercourse between the different sexes of all these different animals'.

Through an amalgamation of historical imagery both real and reimagined she elaborates on Hunter's idea of "promiscuous intercourse" to create her own antipodean world populated by creatures, hybrid manifestations of colonial fauna illustration and surviving costumery, animated and rendered bringing them to life in the 21st century as artefacts of the imagination, objects of wonder and curiosity.

For an artist working in the 21st century, the inability of these artists to see the Australian landscape as it was, but rather to represent their alien surroundings using known forms and animal shapes from Europe, is both beguiling and symbolic. Is our identity as Australians built on a strange hybrid history, a 'Promiscuous Provenance'?

Promiscuous Provenance featured in Doryanthes - A Journal of History, Heritage and the Arts "...Glynn repositions colonial and pre-colonial art, creating a hybrid that questions and repositions the iconic notions we have of western art, in particular colonial and indigenous art."


---
Anna Thompson produced and directed a short film on 'Promiscuous Provenance' and the preparations in creating this touring exhibition.