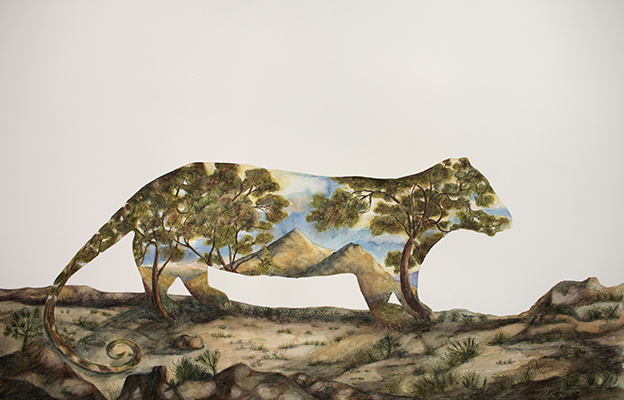 'Landscape within an Opossum of Van Dieman's Land 1777 and a nod to Glover'

In this reimagined landscape I indulge my perpetual curiosity to lead me back in time to an intersection of worlds. By re-interpreting images of Australian colonial artists through a naïve, playful engagement, I express a nostalgia for an antipodean wonderland, before the imprint of colonization was stamped over the landscape and its inhabitants. This is a world of fantasia, a place on the cusp of reality and imagination, a strange natural history tableau.

Referenced images: Webber's "sketch of an OPOSSUM of VAN DIEMAN'S LAND" Tasmania 1777, Glover's "Constitution Hill sunset, Van Dieman's Land near Mrs Ranson's public house" 1840

The JADA provides artists who reside in Australia a unique opportunity to explore the complexity of drawing. The award seeks to encourage and promote innovation and excellence and plays a vital role in fostering Australian drawing practice. The unique and impressive JADA collection exemplifies the developments and changing parameters of contemporary drawing since 1988. The collection explores the way that drawing resonates as a contemporary medium, demonstrating the relevance and strength of drawing. The collection has attractively developed through the tastes, opinions and approaches of the various judges into a collection that is compelling, thought provoking, innovative, exuberant, and diverse.