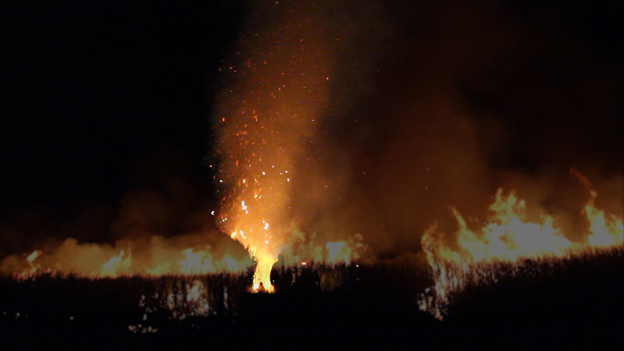 2016 Noosa Art Award Judge's Comment:

"I like the ambition of this work, the way in which it speaks to the theme of modern Australian landscape and an environmental Armageddon, that journeys from the microcosm of a single fire to a potential cataclysmic event. The transformation inherent in fire is captured as the moving image work develops, and notes early the dwarfing of humanity at the hands of a natural force. The trajectory of the fire is evocatively captured, the cataclysmic fireworks, the accompanying soundscape, and then the denouement, bringing to mind the cycle of day and night, the trajectory of other natural weather events, the human journey itself."

Louise Martin-Chew, 2016 Judge Noosa Art Award
---
In this work I continue in my investigation of the Australian landscape, recording a current agricultural practice - filmed on location at Goodwood Island in Northern New South Wales, a low lying island in the Clarence River Estuary. The burning of the cane fields is a family affair, a tradition a way of life and a marker of the change of seasons demonstrating that fire is much more than an exothermic chemical reaction.
'Cane' references the underlying primal narrative of fire and man within the landscape. The video work is a meditative exploration of land and place: the ephemeral, the fleeting layers of time and the past and present overlapping within a landscape transformed by man. It records the hypnotic pulse of the flames as they breathe, seeming to pant rhythmically to a crescendo then diminishing to faint sounds in the smoky blackness.
Thank you to the Reid family and other members of the Goodwood Island community for creating the opportunity to film on Goodwood Island.
Music by
Ben Cosgrove
; field recordings & sound editing by Anna Glynn