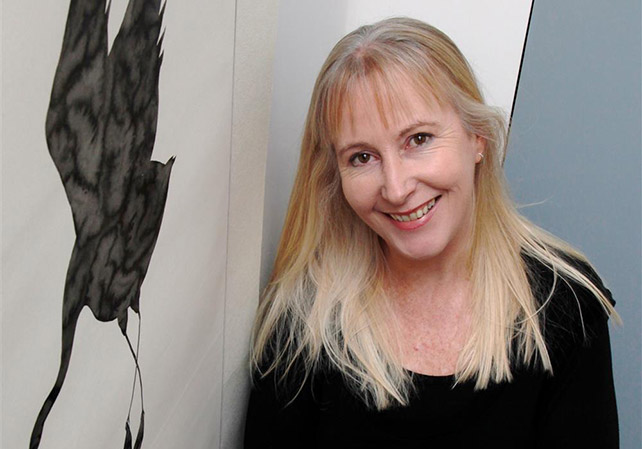 An ongoing theme in my work is where nature is entwined and relationships are complex – a place where myths and characters combine and intersect.
My work reflects a strong and powerful relationship to nature. I use this substance and spirit as my foundation. I am intrigued by human interpretations of nature. My work references the natural world and expresses curiosity and wonderment, investigating connections: humans and nature, land and place, ideas and the ephemeral. I strive to create visually poetic artwork investigating the place of humans in the landscape, fleeting layers of time, the past and present overlapping and resonating.

I am especially interested in the intersection of cultures and ideas – the crossing of cultural borders and the sharing of the consequent experiences. My art-practice has been inspired by working and collaborating internationally, including considerable time in Asia especially China.

In recent years I have worked to develop a genre that fuses Chinese traditional ink painting techniques with a Western aesthetic utilising the natural character of the Chinese materials, generating a meeting between East and West, traditional and contemporary.
---
Anna is an award winning multimedia artist who works with a palette of sculpture, installation, painting, drawing, film making, moving image, digital animation, photography, writing, music, sound, and theatre.

In 2016 her video/moving image work 'Cane' won the Noosa Art Award and 'Presence' was a finalist in the Mandorla Art Award and acquired for the St John of God Healthcare collection in Australia. In 2015 her video 'The Sun Worshipper' was selected for the Byron Bay International Film Festival and was a finalist in the Whyalla Art Prize. In 2015 her drawing 'Awaiting Discovery' was the recipient of the Kedumba Drawing Award. In 2013 she was a finalist in the 'Australian Art in Asia Awards' recognising her ongoing commitment to international collaboration. In 2014 she was Awarded a Veolia Creative Arts Scholarship in recognition of her "commitment and contribution to the creative arts". She has undertaken a number of successful residencies both within Australia and internationally, including in 2013 in the Department of Visual Studies, Lingnan University, Hong Kong where she undertook research, taught multimedia, lectured and mounted the 'Wonderment' exhibition at the University.

Her digital video artworks have gained international awards: 'The Traveller' won the Animation section at the 2010 International Film Festival Ireland and was selected as the premier work to launch the Albury Regional Gallery 2011 Outdoor Digital Gallery. In a unanimous decision by the judges, her digital video artwork 'Verse Versus' won the 2009 Australian Historic Houses Trust, Meroogal Women's Art Prize. In 2009 her narrative painting 'Brave Hunter' was chosen as the iconic Australian image for the cover of 'A Concise History of Australia'. In 1998 she received an International Women's Day Award for contribution to 'Women, Art & the Community'.

She regularly exhibits internationally: including the Art Museum of Zhu Qi Zhan, Peking University/ China & the Kyoto Museum / Japan. Her soundscape work 'Yarra River Stories' was featured on the Australian Broadcasting Commissions Radio National '360 Documentaries' in 2011 and 2013.

She has been included in the following publications.
Contemporary Australian Art
Artists and Galleries of Australia
A Dictionary of Women Artists in Australia
Who's Who of Australian Visual Artists
A Buyers Guide to Australian Art
She is a member of various professional bodies including the
National Association of Visual Artists
Australian Society of Authors
Arts Law
Viscopy
Full Writer Member, Australasian Performing Right Association
She has completed many commissions such as the year 2000 Millennium Sculpture Prize which is part of the collection of the Shoalhaven City Arts Centre. Her artist in residence includes those with public galleries, museums, government departments and in industry.

Her book, Strange Memories, is sixty pages featuring twenty five of her paintings. It explores the resonance of a journey in time through word and image.